I've had a severe pain in my upper right abdomen in the front and back that lead into my lower abdomen for months (could be years), the doctors keep saying it is Fibromyalgia and I just need to exercise. The more I did the exercises, the more pain I had in those areas, it seemed internal to me.

I was getting out of the shower because I was having trouble breathing and the pain in my abdomen was so bad. I thought maybe I had to go to the bathroom, when I sat, it felt like I was going to throw up, so I changed position, then had to hit the floor because I felt like I was going to pass out.
There I lay unable to move for a half hour or more because of the pain and nausea. I just kept saying breathe Jen, breathe. When I finally got up, I was so white, almost yellow in color and I could barely stand from the pain. This was my second attack so I went to the Doctor.
He thought it was a bladder infection and gave me an antibiotic. He said it also could have been a kidney stone or appendicitis, because it was also in that area. If it happens again, go to the hospital.
The meds helped the severe pain subside for a while but it didn't take it away. I also experienced terrible headaches and ill stomach from the antibiotics. He sent me for blood tests and an ultrasound which was scheduled weeks later. The results came back that my gall bladder and kidneys were fine. So why did I still have the pain?
The pain was still radiating in my back, right side, kidney area down into my lower abdomen, under my ribs in the liver area and into the lower abdomen, across to the left side.
Have you every experienced that desperate feeling that you know something is wrong yet they keep telling you that you are fine? Or they don't give you an answer at all?
I took it upon myself to start a cleanse because each attack was getting worse and I wasn't looking forward to the next one. Most all experts advise to do a colon cleanse before you do a gallbladder, kidney or liver cleanse and that is what I did.
I started the cleanse a week ago Friday and OMG (Oh my god)!! I passed thousands of tiny stones, have a look at the pictures below. They are tiny little pebbles so I took some pictures and blew them up. It looks like the stones that washed up on the beach. What a variety from all shades of brown, black, green, pink, yellow, white, tan, orange and calcified: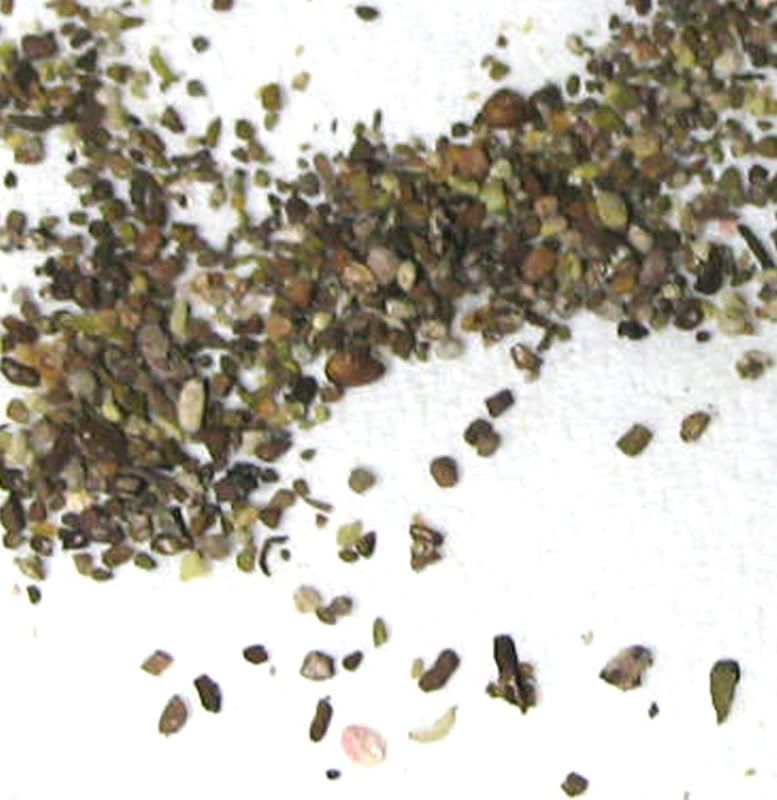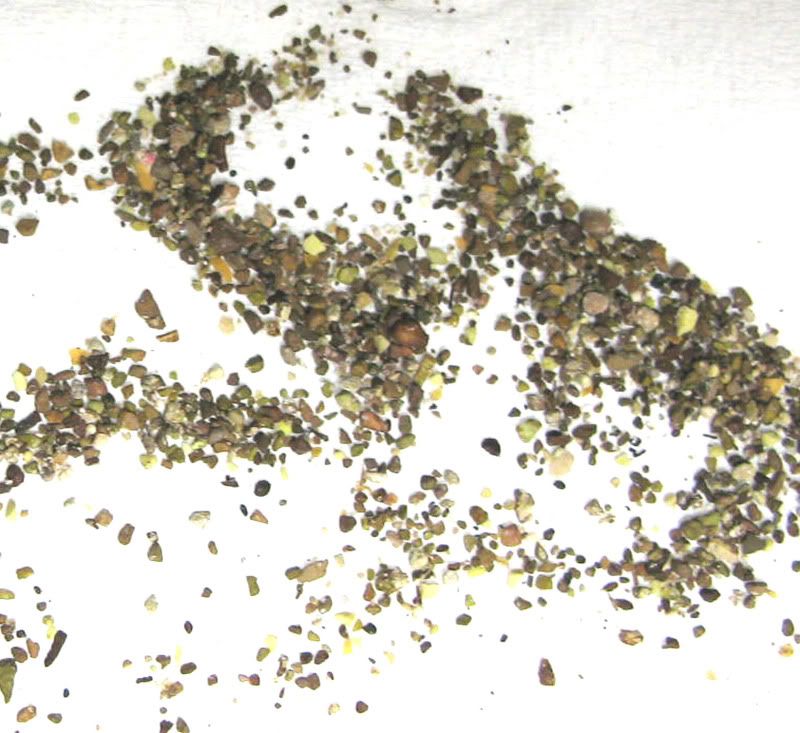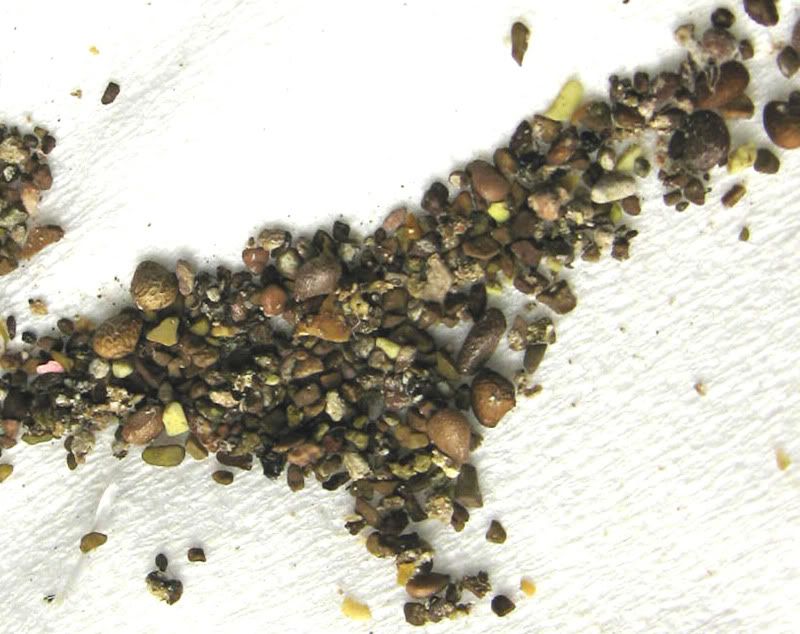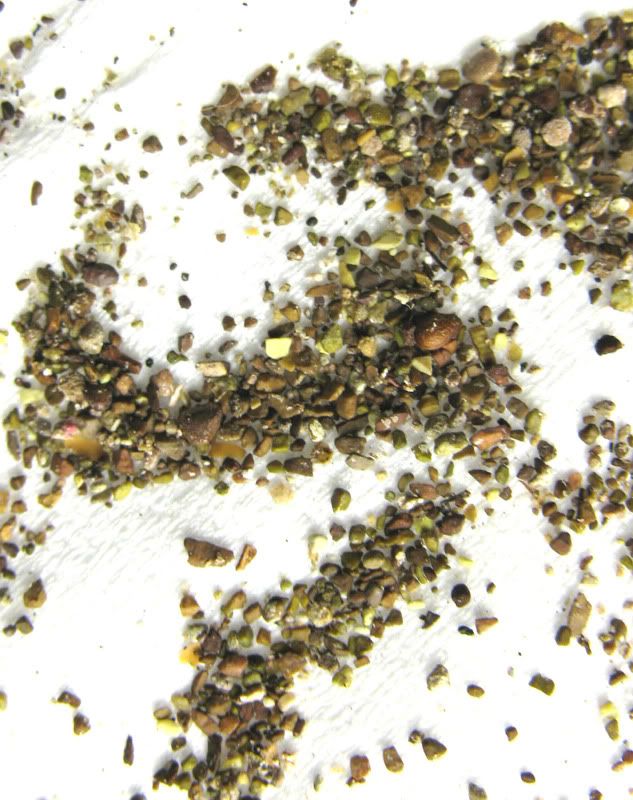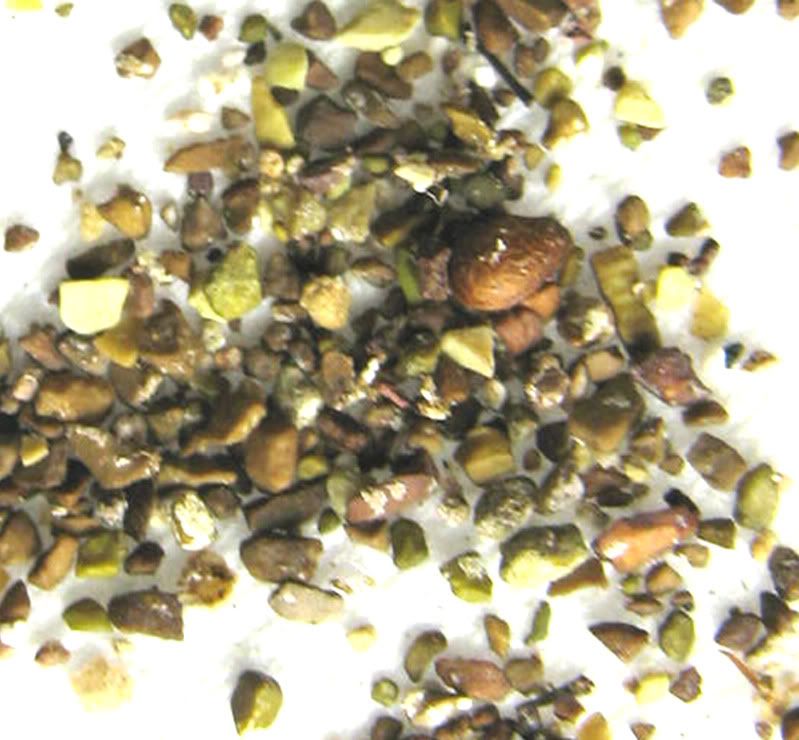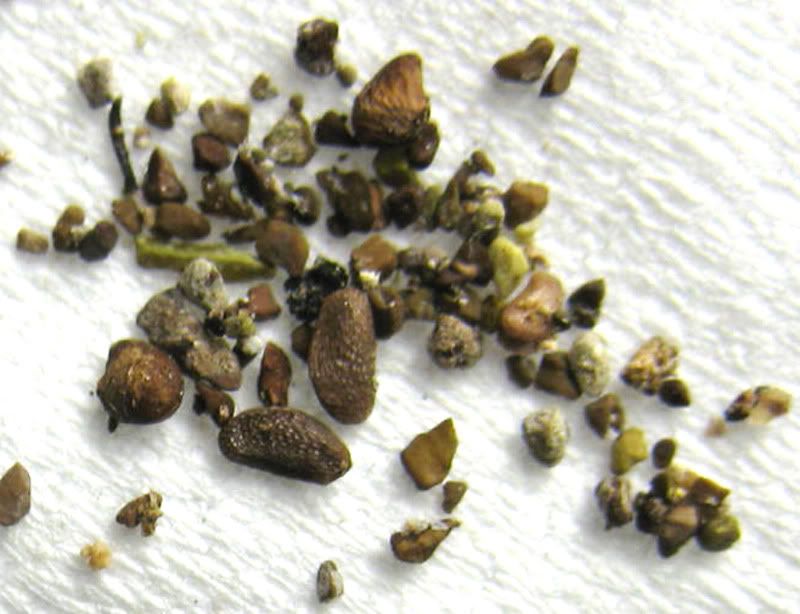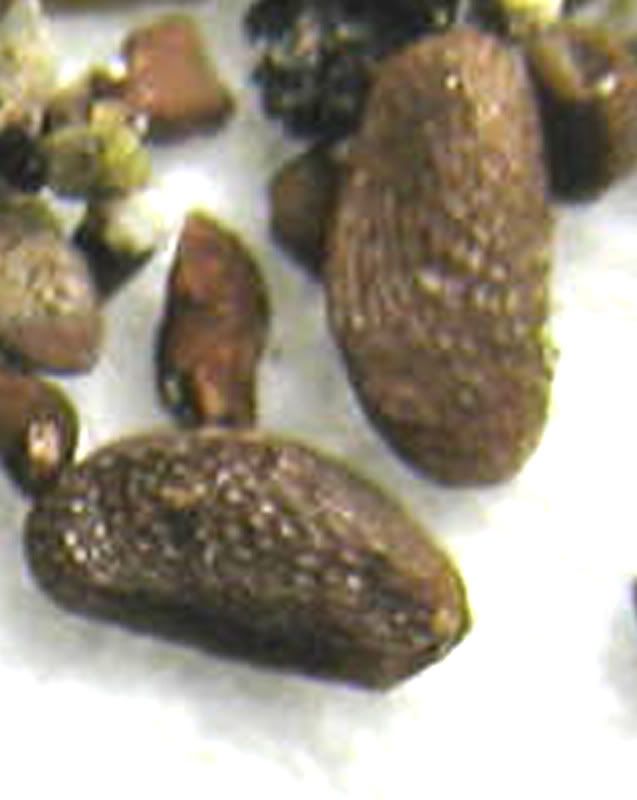 If you would like to cleanse your body of a lot of god only knows what, Coloson worked for me. It is a very reasonable price at the link below, only $19.99. I have tried other cleanses but haven't had success like this one and they were very costly.
You need 5 to stay close to the toilet though as it is a powerful cleanse. I did the quick 6 pills, 3 times a day cleanse but you could spread it out so it was gentler.

***You should check with you doctor first to see if it is okay to do a colon cleanse and that you have no blockages in your colon or intestines (although I am pretty sure it would clear that problem quickly : )).These statements have not been evaluated by the FDA. This product is not intended to diagnose, treat, cure or prevent any disease.

Some doctors don't believe in cleanses, especially the doctors from the old school, so I would make your own choice if you have pain that they can't give you an answer for. I am not a doctor or a nurse, I am just someone in pain, sharing my experiences that work for me. The desperation of being in chronic pain and getting no answers from the medical establishment has turned me to find my own cure. I am on my journey to wellness.

The pain in my right side in the back and lower right abdomen has eased off. I still have pain under my ribs. I have completed the colon cleanse today and am going on to the liver cleanse in a few days to let my body recover a bit and replenish it with wholesome foods and vital nutrients. I can hardly wait to see the results of the liver cleanse if the colon cleanse was that successful and I will be moving on to the kidney and gallbladder cleanse too. I passed thousands and thousands of stones several times a day for over a week, even days after the pills were done.

I did some research on stones. It looks like I have quite a variety of Calcium Dihydrate (orange), Calcium Oxalate Monohydrate (brown), Uric Acid (dark), Calcium Oxalate (brown calcified), the brown and yellow chard are gallbladder stones and the green stones are liver stones.
Quite a variety for a person who is healthy and just needs to exercise! I have had chronic pain in my joints, muscles and organs for 20 years. I have always kept active and am extremely fit so I find it quite insulting when I am told I just need to exercise. Just another case of me being misdiagnosed again. I was even told once, oh, you are just getting old.
Old actually doesn't mean that you are sentenced to a life of chronic pain. You should be vital, pain free and have your well being into a ripe old age. Don't get sucked into the belief that because you are aging, you have to live off of a pile of pills and suffer chronic pain. It doesn't have to be that way and I am determined to keep going until I am pain free.
I am not waiting for the medicine man to remove my gallbladder because it is so full of stones or until it destroys my pancreas like it did my husbands.They let him go so long with pain and nausea that his gallbladder damaged his pancreas. He ended up with Pancreatitis and almost died.

The makers say there is no urgency with Colosan but I did find urgency, perhaps because I am chronically ill or it could have to do with being Celiac or lactose intolerant or having the kidney stones, who knows? Looking at the stones now, I am starting to see why I have so many symptoms and pain.
You can actually hear and feel it oxygenate inside you with gurgling as it travels though purging your intestines and colon and when it gets down to the lower part of your body, don't wait, the urgency is you have to be by the toilet because it is coming now! It liquefies the contents so it is like peeing through your butt. Sorry, I don't know how else to describe it but how it really is. : ) There is no pain though, it is very gentle and it's not at all like that severe diarrhea that gives you that sick feeling in your stomach.

Have a look at these websites with all the kidney, liver and gallbladder stones, it is quite fascinating. Check out the 6 pages of stones on the first website below. :
http://www.herringlab.com/photos/
There are 13 pictures of liver stones here:
http://curezone.com/image_gallery/intrahepatic_stones/default.asp?i=0&n=13
Gallbadder:
http://www.goldbamboo.com/pictures-t1349.html
What the heck are those stones made out of and what do they mean to me?
I was searching the stone Calcium Dihydrate and came across this disease from Merck manuals – Calcium Pyrophosphate Dihydrate Crystal Deposition Disease which sounds to me like a fancy name for the crystals  I was searching landing in the body causing pain. It is described as intermittent attacks of acute arthritis and a degenerative arthropathy.  Diagnosed by CDDP crystals in the synovial fluid.
http://www.merckmanuals.com/professional/sec04/ch035/ch035c.html
Here is the cleanse I did:
Colosan
Of course, Colosan is best taken in conjunction with colon hydrotherapy, yet it is also GREAT on its own for people who REFUSE to do colon hydrotherapy. Colosan works mainly inside the small intestine, which we can't get to with colon hydrotherapy. The acton of the oxygen helps balance fermentation & yeasts. The quick liquifying effects of old impacted matter often create energy shifts & reduction in bloating. If people do the initial suggested 5-day intensive use of Colosan, it frequently encourages them to keep going. Colosan is great too for travelling & jetlag. It's also great to use instead of epsom salts for liver flushing. Additionally, it is good for kids & pregnancy.
To sum it up: Colosan is gentle but very effective.
Oxygen for Superior Colon Hygiene
There are common goals to healthful living.
One primary goal is proper colon hygiene. The cleansing of the digestive tract is a logical place from which to embark on a healthful regimen. Ask any contractor- you have to clean up before you repair and rebuild. The same concept applies to well being and rejuvenation.
Eliminate built up toxins before you provide the body with what it needs to restore well being.
There is no better way to clean the colon than with oxygen since digestion is known to be a process of oxidation. By introducing oxygen into the intestines and the colon, one can assist the process of complete digestion as well as oxidizing undigested material.
Colosan for Proper Colon Hygiene
Digestion & Oxidation
The average person is walking around with anywhere from six to twelve pounds of undigested material fermenting in their intestines and colon. Digestion is a process of oxidation. That is why we give off heat, carbon dioxide and sulfur dioxide. Just like a car engine when there is improper oxidation some of the fuel gets left behind as a residue. In the digestive tract, there is a similar build up of partially digested gunk. In an automobile when you add oxygen to the fuel mixture the built up materials are burned off or oxidized. You can do the same for your body. As these materials accumulate and subsequently begin to rot, your body wraps them in mucous to keep them from poisoning you.
Colosan turns the accumulation and the mucous into carbon dioxide and water that are gently eliminated. It is unimaginable to think of going one week without the use of a toothbrush or toilette tissue. Yet, when was the last time you thought about cleaning the twenty feet in between? Do you think it's any cleaner? It's a simple fact, people rarely clean where they cannot see and that is where problems begin.
Somewhere to Hide
Your impacted material is home base to four of the most dangerous threats to your health. Number one, it is where toxins accumulate. For example when you are behind a bus in traffic, the exhaust gets in your saliva and sinus, then you swallow and that chemical soup is absorbed into the impacted material and eventually leaches toxins into your blood stream. Second, it is where virus' and bacteria hide when your immune system chases them out of your bloodstream. There they breed and re-infect. Third, the impacted material is a fecal fortress for parasites to reside in and an ideal garden for the overgrowth of undesirable flora such as Candida. By using Colosan to oxidize and eliminate this impacted material, you are eradicating the home base to four of the largest assailants to your health and giving them nowhere to hide.
Assimilation and Elimination
Colosan is also vital to the operation of two very important gut functions – assimilation and elimination. The colon is approximately three to five feet long. The walls of it are reasonably smooth and it is primarily an organ of elimination. If the colon is clogged with mucous and undigested material, the function of elimination is impeded.
Many practitioners recommend health regimens that involve the detoxification of the liver, kidneys, the bloodstream, and the lymph. However, if the colon is not cleaned first, these systems have nowhere to empty to and back up. This creates a feeling of malaise known as a detox reaction, or healing crisis. These episodes are unpleasant and can be completely avoided by using Colosan prior to any detox regimen. By cleaning out the colon with Colosan first, it enables the detoxification regimen to proceed without impediment and, in fact, can be pursued more aggressively and to better effect. The intestines are approximately twenty feet long. Nature designed them with a maximum amount of surface area for absorption. The inside of the intestines consists of villi. These are hundreds of finger-like projections making the internal texture of the intestines much like a shag rug. When the villi get pasted down with mucous and impacted material they are less able to absorb nutrients from food or get maximum benefits from your supplementation. Instead, you are reabsorbing toxins from the impacted material as it ferments. By cleaning out the intestines, shampooing that shag rug as it were, you enable yourself to get the maximum benefit out of the food that you eat and the supplements that you take. It is also a wonderful way to reduce bloat and relieve that lousy tired feeling one gets from absorbing poisons into the bloodstream through the intestines instead of nutrients.
Common Use
Take 6 capsules with a twelve ounce glass of water–three times daily for five days for an initial cleanse. Colosan Capsules should be consumed on an empty stomach at least an hour before eating. Take six capsules weekly for maintenance. One or two can be taken as a stool softener. Colosan releases a tremendous amount of oxygen and ozone in the intestines and colon for the purpose of cleansing. It is important to take Colosan on an empty stomach and wait an hour before eating anything else. There are three times a day when most people find that they have an empty stomach and will not be consuming anything for an hour. These are first thing in the morning, around five o'clock in the afternoon and right before bed.
Proper Colon Hygiene
Colosan is widely regarded by Practitioners as the most thorough, gentle cleanse that utilizes and complements the body's natural process of oxidative digestion. It is preferred to herbal micro toxins and amphetamines which purge the body of valuable water. It is also preferable to fiber as in psyillium, bentonite clay, and granular activated carbon which all attempt to scrape or leach the impaction out rather than oxidize it as Colosan does. It is a good idea to stick with tradition as for centuries man has been using oxygen for digestion and clay and fiber to make bricks.
Colosan is a thorough cleanser. That means it will help you to empty undesired materials from your intestines and your colon once they are reduced into carbon dioxide and water. One can expect copious, aqueous stools but should not experience gas as all reactions take place in solution. This is to be distinguished from diarrhea where by diuretic action or microbial invasion the body purges itself of valuable fluids and there is a sense of urgency. With Colosan, you will have no sense of urgency – one more reason why it is the colon hygiene product of choice. In fact, Colosan is used by many colon hydrotherapists as an adjunct to their colon irrigations or colonics, because it allows them to clean the intestines as well as the colon. With proper colon hygiene health, vitality and longevity can begin in the colon. Take your Colosan Today.
Colosan Label Info
Colosan is a proprietary blend of various oxides of magnesium designed to gently release oxygen in the digestive track for the purpose of cleansing.
Useful Information: Store in a cool dry place. Close lid tightly. Follow the directions. Colosan can be used safely 2 to 3 times daily for an initial cleansing period after which a periodic use of once or twice weekly is recommended.
Apple cider vinegar can be used to replace the lemon.
CONTENTS: 120 caps
Each six capsules contain 1740mg Magnesium
Other ingredients include cellulose, citric acid vegetable stearate.
* These statements have not been evaluated by the FDA. This product is not
intended to diagnose, treat, cure or prevent any disease. Click the link below and put Colosan in the search.
I am an affiliate for The Natural News Store. I only endorse Natural and organic products you can trust. I try to find the best pricing available from the most trusted sources on the internet. Don't be confused by the chemical  cocktails that are being passed off as natural herbal products,  get the real thing.